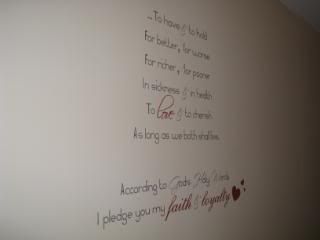 For some, these may just be words that give meaning to a sentence. But for others, they are not only meaningful, but it symbolises a new journey, a commitment of a lifetime that they pledge to one another. These are the very vows that Marcel & ShuLynn have promised to each other.

The Yew Tee-ians and an intruder were invited to a dinner gathering at Marcel & Shu's Love Nest on Saturday :) They've been married for 2 months and this gathering is the 1st that Marcel & Shu has organised. We're their 1st batch of guinea pigs and they have prepared for us STEAMBOAT!!! Yummy my favourite!!~ :)

We were the 1st to arrive at their place and had the priviledge of doing the 1st walk around. I must say that their renovation was nicely done!~ :) The color theme for the whole house was very earthly. Khaiki colored walls and white tiles and fixtures :) Though I'm not a fan of white, I like the feel of it at their place... hehehe... They have inspired me to think about repainting our house soon :Þ And when I do so, I'll know who's going to be looking at color charts with me... hahahah... I haf many pple in mind~

This is their cosy loving room~ By the way, I love this " curtain" thingy. 2nd time I've seen it. 1st was at Priya's place. heheh... I might do something similar when we make a 2nd set of curtains for our place... :)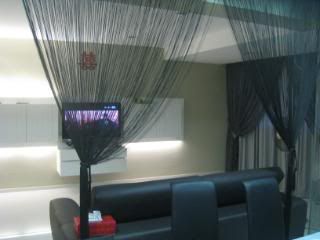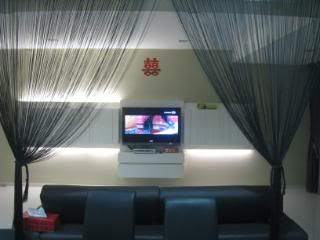 A view of their dinning area from the living room and their lovely kitchen!! I'm a sucker for red and this was nicely done... esp the oven part... regretted not makin something like this for our place... Oh Well!~ maybe when we get our next plc? Hahah... I wonder when...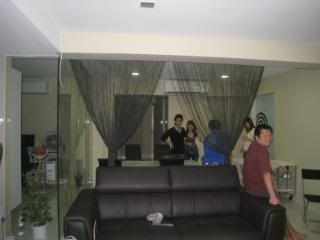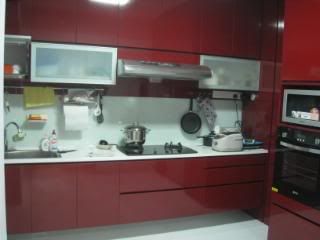 Shu made this sticker thingy for the sliding door in the kitchen and their wedding vows which were on the wall behind the bed frame.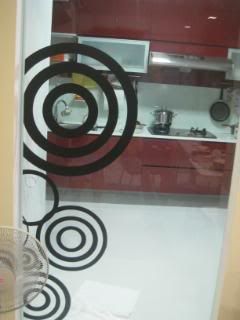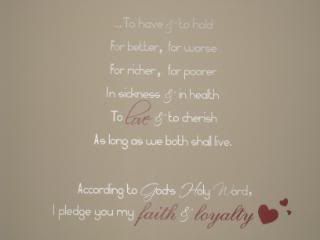 After the Loks arrived, we started preparing for dinner as the intruder was on her way over... hehehe...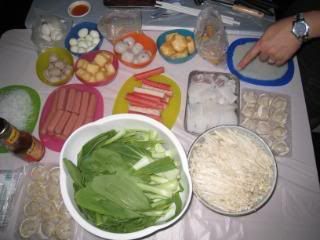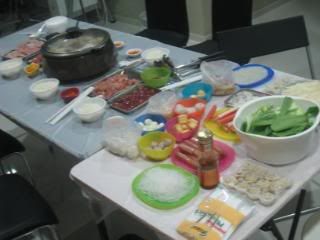 Both Mr Lees (who happen to be Hakkas as well) busy adding food into the pot for our 1st round of feasting... :)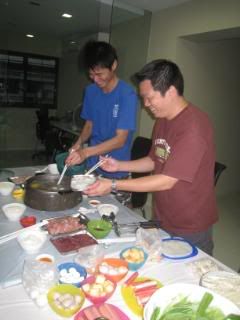 Yum Yum Yum!!~ :) Soup was made from corn, carrot n bak kut... :) Not bad for their 1st attempt!~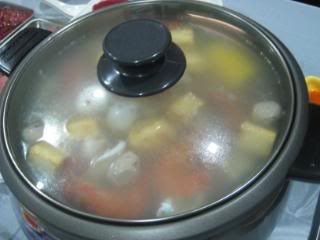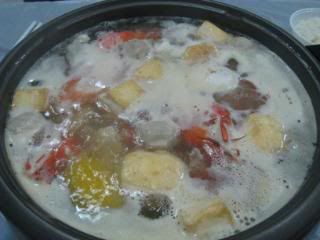 What's steamboat without mixing chilli and sng kum juice!~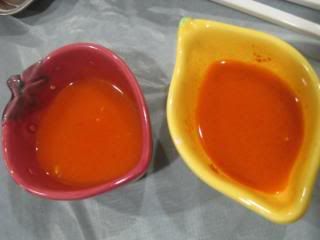 After dinner, everyone helped to clean up and Shu prepared dessert for us!~ :) We had waffles with ice-cream & chocolate syrup! Yummy!~ Heheh.. she also brought out the Durian Puffs & Chocolate Ecclairs that I bought! Everyone was STUFFED!!! :P

This mini gathering consisted of 2 pair of Lees, The Loks and The future Mr & Mrs Tan :P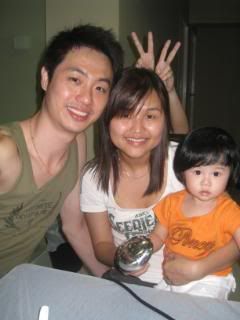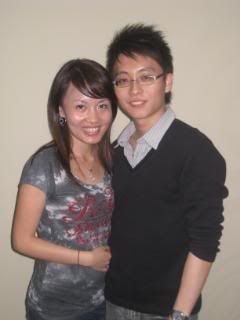 Our Intruder, Grace, aka Choo Poh Poh, happened to be able to play the piano~ Heheh... Shu also learnt how to play the piano when she wasn young. Amazing rite... when I saw the piano, I cant help recalling how it was like having my piano teacher use the ruler to smack down on my knuckles when I was younger... Oh man~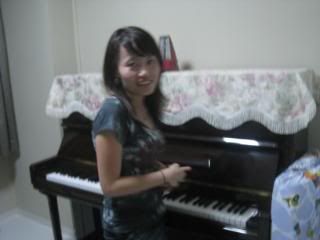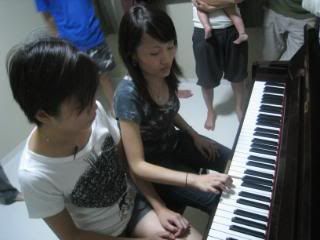 Soon, there was music being played or rather a few chords of it... hehehe... After many many tries and after someone who kept saying this...



A duet was finally played and it was rather decent too... :)



Even little Megan had her 1st piano lesson... Doe a deer a female deer, Rae a drop of golden sun, Mi a name I called myself, Fa a long long way to run, So a needle pulling thread, La a note to follow So, Ti a drink with jam and bread, that will bring us back to Doe oh oh oh, Doe rae me fa so la ti do so doe~ :)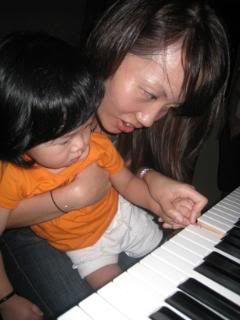 And after that, there was a solo performance of Twinkle Twinkle Little Stars jus for Mega :) and of cos more of the chanting of I need Scores I need Scores... hahaha.... Shortly after our mini concert, we decided to take a group photo and it was at this time that my cam batt decided to go flat and I had to borrow this pic frm Richard's blog :)




Soon, it was time for the Loks to head home as it was past Princess Megan's bedtime and soon after they left, we made our way home as well!~ :) It was fun having this gathering and a chance for everyone to get together & hang out with our partners and to bitch about everything and anything!~ Thanks for Having Us Marcel & Shu :) We'll have more of such gatherings soon ya... hehehe... :)