Everything in this post is long overdue :| We've been busy with so many activities and gatherings that I havent got much time to sit in frontof the pc to blog... finally I've managed to find time today to upload the pics and even photobucket is so cooperative today as it took minutes to load so many pics... so here I am... :)
1st up, we attended Natalie's 1st Birthday party last weekend. Before leaving the house, I woke up much earlier to bake some meat balls for the furries and also for their fur pals, Bebe, Terry & Tommy. The duos started getting excited as the smell of the baked beef balls filled the house and they decided that it would be a better choice of lingering around the kitchen... :P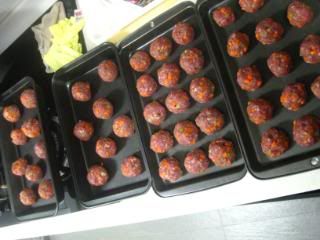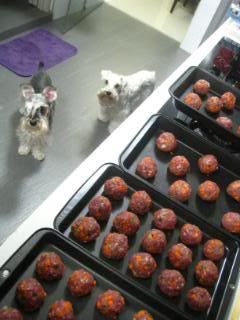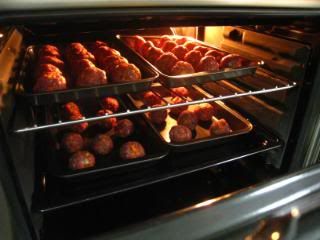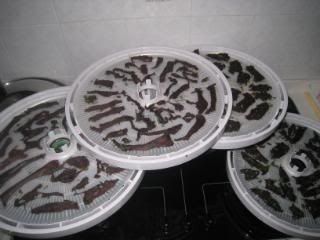 We then went to Goodwood Park to collect some pre-ordered goodies and headed over to Angie's place thereafter. We were the 1st to arrive with lots of pressies for everyone... :) Durian puffs and durianmisu for everyone, pressies for the little ones and some home-made yummies for Bebe :)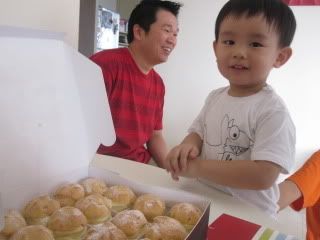 Happy 1st Birthday Darling Natalie!!~ *MuAckz*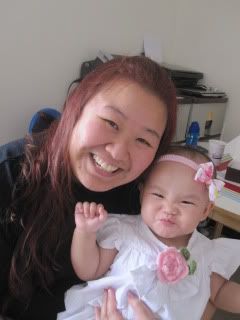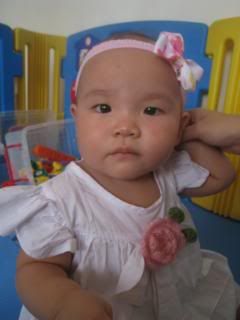 Nicholas loving the pressies.... :)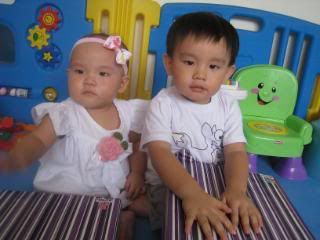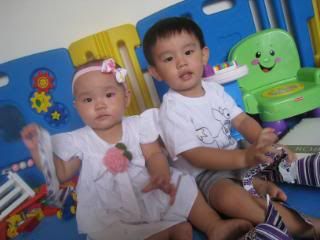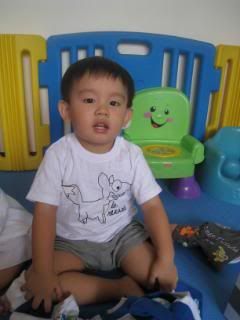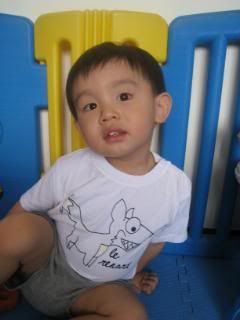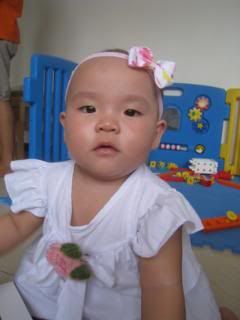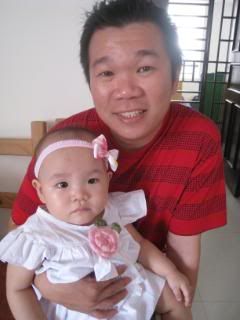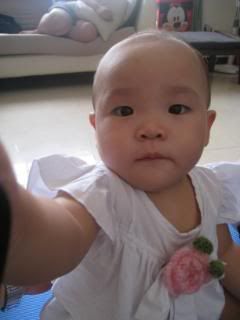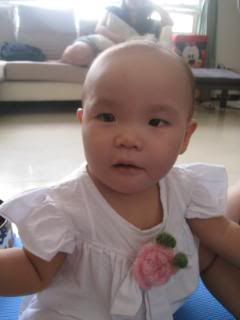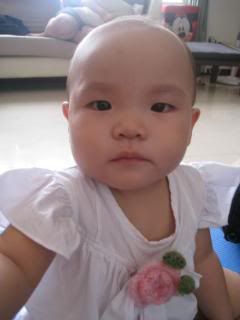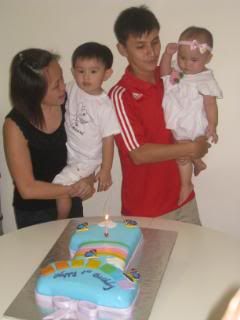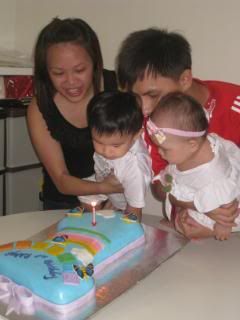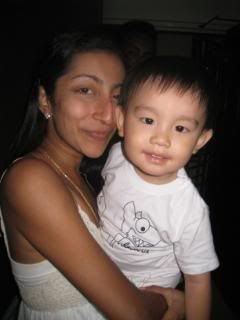 Next up was a mini gathering at Serene's place with Winnie on Friday which happens to be a Public Holiday and we had steamboat! :) We also celebrated Ebi's 4th Barkday... The handsome birthday boy~ :)
Manja & Emo Emma guarding her fountain of youth behind her ~
Our feast~
The furry feast~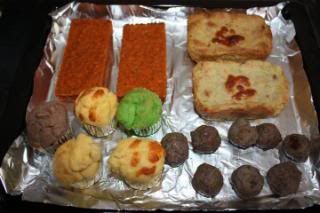 Furkids~ Missing the adorable JJ bros...
Ebi posing with his blueberry cake... Happy Barkday Ebi Darling~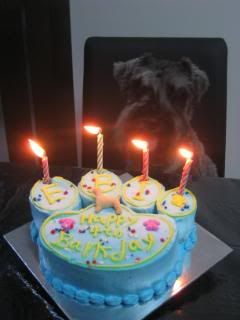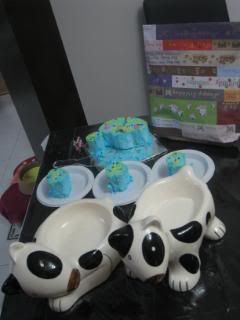 Auntie Winnie and her nonsense tryin to bring Toby's signature ears down :P
While the boys were engrossed with the chicken, Tamy was looking at them on her "throne".
Our almost complete family portrait...
After Serene's place, we headed down to ECP and met up with Zhi and Angie to go cycling :) Borrowed a carrier from Serene for Toto.... :P
This time round, Angie's parents came to ECP with them and after almost 2 hours of cycling, we headed down to Beach Cabana for dinner :)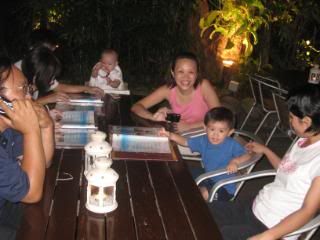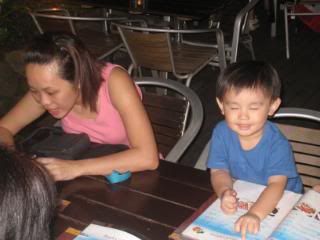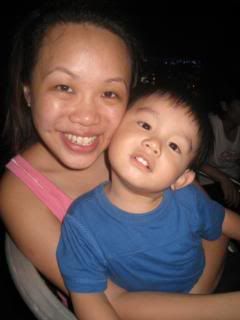 The weather was rather cooling and we stayed on after Angie and family left as the kids were getting sleepy... by the time we got home it was close to midnite and we had been out for more than 1/2 a day... It was a really long day for us and so was saturday~
We woke up about 9am and headed down to Hougang to meet up with Angie and Priya as we had an appointment with Marcus... :) Priya finally had time to rebond her hair and Angie decided to do treatment. In the end, she left the salon with curls... :P hehehe... Nicholas was there as well and we had a really fun time at the salon... I spent quite a while at the salon going in and out until almost 3pm... hahaha....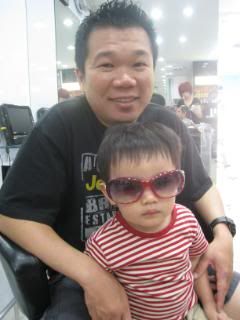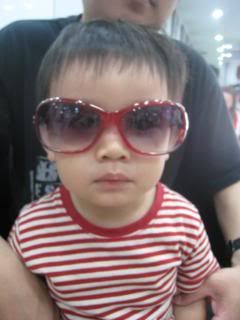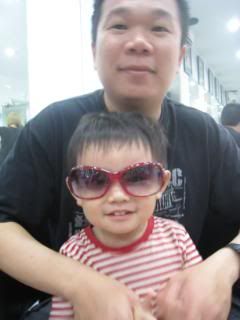 After so many activities, I am finally able to put aside time to groom my precious duos today... :) I managed to finish bathing the both of them in record time today. Took me less than 3 hours!~ :) Toby & Tamy recently received a little something from Auntie Jessica when she went for a short trip to HK... The sun screen squeaky is for Tamy while the No 1 Trophy is for Toby :) Thanks Auntie Jessica :) The duos love the squeaky sound especially Tobz!~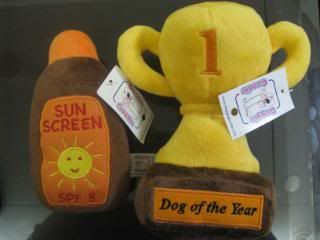 After their bath, they started playing and I jus had to take more pics of them. Sometimes I really wonder why they never looks this good when I send them for bathing at the groomers... :| They dun really come back looking all white and fluffy... hmm...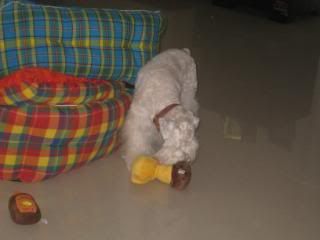 My darling boy... where did your lovely eyes go? ekeke... :)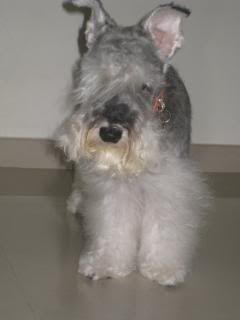 Tamy was more willing to take pics today and wasnt so occupied with the new toys. Hence, I managed to get more goofy pics out of her :)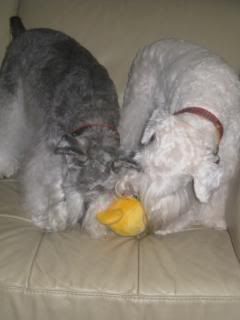 Well this marks the end of a long weekend... it will be a while before we get our next break in August. It'll be back to work tomorrow once again... *siGh* Please let the weekend come soon...