We were supposed to bring the furries out today but as Garry had to go back to work, they once again had to stay home... Good thing that work didnt keep him at the office for too long. Waited for him to come back n we left home about 3pm for lunch. I was jus so sick of cookin n eating the same food for the pass 10 days and decided that today, I'm gonna go out for fish soup! :) It was super yummy!
After lunch we headed down to IMM as I wanted to go Daiso to get some stuff... and after that we headed down to Giant as I wanted to get a Digital bathroom scale... since I'm on a diet so I decided what the hell maybe its time i invested in one. Didnt wanna spend too much on a digital scale so tot I'd try my luck there.

Our 1st stop was at guardian and we found one... it was about $26 but it was so so onli for me cos I didnt reali like how it looked. Since we had to get some other stuff in Giant, we decided to cross over to try our luck there. And I was pretty lucky cos I really managed to find one.... hahaha.... though it was aboout $10 more, I preferred the design and the overall look.

TADA!!! Presenting my new Digital Weighing Scale :) Looks sleek and chic? Hehehe... Looks ok rite? Hahaha.... I really like it... it comes in red and black but i decided to get the black :)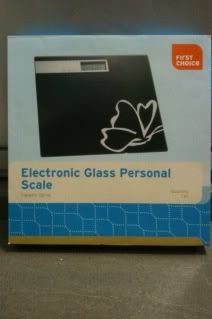 I'm very happy with my buy and the best thing is that I didnt have to pay for any of my purchase in Giant as I had Capitaland Mall vouchers that I could use there... Woohoo!!! :) We headed off for dinner at Yew Tee and I had YTF (Yong Tau Fu) there... :) Though I only had veg, mushroom and tau kua, I was very full oredi.. surprising hor... :P As we were finishing up, we suddenly heard a man shouting and as we were seated quite far from the sound, we thought that his child got scalded as we heard a child cry.
As we were walkin out, we crossed path with this family and realised that the father had actuali scolded his child which resulted in the crying. As we waited for the lift to the MCP, we realised that he had slapped his child for misbehaving and not bcos anyone got injured. There was quite a crowd there and the father was simply scoldig his son who looked to be about 3-4 yrs old. What's embaressing is that he started scolding his son with words like Fuck..., I give u face u dun wan face.... CB...... how many times must i tell u to keep still n dont run... fucking.... throughout the whole time, he kept using the words Fuck and CB and his sons were so young.

How embaressing can it get I wonder. Not so much for the kid but more on the parents. What kind of impression are u giving others? Aiyoz... reali la... if im a parent, i would never have used such a language in front of the kids not to even mention in public... what would others think man... *peNgz*
Anyway, we got home and after keeping everything, I took out the scale and decided to weigh myself... after 11 days, I was hoping that at least I lost maybe 1-2kg... cos I feel that I still look about the same as before... When i stood on the scale, I realised that I'd lost 4kg!!! Yippy!!! :) At least my efforts hasnt been wasted :) and I feel happy that it's paid off and that I've lost more than I expected. I hope that before the next weigh-in, I'd have lost more.... :)
I also weighed Toby and Tamy and my darling boy is only 6.4kg whilst my pui char bor is 6kg!! Goodness.... to think that I've oredi given more food to Toby and lesser to Tamy.... *siGh* I have to increase more of Toby's intake from now so that he can at least be slightly heavier. I like him with abit more flesh... As for Tamy, she's fleshy enaf and I'd jus maintain her size :) I cant wait for them to meet their frenz tomorrow.... Looking forward to our gathering!~:) I hope the weather would be cool and dry~